I have been printing letterpress for more than thirty years. Former workplaces include my home in Oxford and Bath Artists' Studios (formerly Widcombe Studios); I am now based in Hurst Street, Oxford.
I specialise in handset type and in printing from blocks and lino on a wide range of papers and boards. My equipment can also deboss, crease, die-cut and crash-number (printing serial numbers onto blank or pre-printed stock). My workshop is equipped with a Heidelberg automatic platen (also known as a 'windmill') and 15 × 20.5 inch (380 × 520 mm) cylinder presses. There are also a Vandercook SP20 (20 inch wide by 30 inch long) proofing press, a royal (20 × 25 inch) Albion hand press and other small hand-operated presses.
I can produce single or multi-colour work. The workshop's output ranges from posters through books and packaging down to record labels and business cards. I have worked with the artist Stanley Donwood on a range of projects including the large linocut London views.
I also carry out letterpress and linocutting courses for St Bride Foundation in London. I occasionally teach students in the workshop in Hurst Street. I can also be found at art and printing fairs in Oxfordshire and the region.
---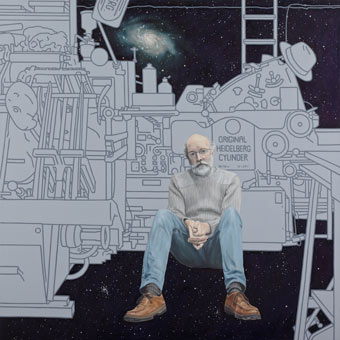 To Boldly Go. Portrait by Ben Hughes